Desert Museum Library — Readers' and Writers' Series
March 25, 2014 (12:00-1:00pm in the Baldwin Building) Free with museum admission.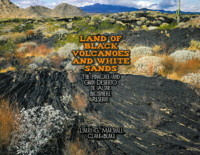 The Pinacate area has been called the "heart and soul" of the Sonoran Desert. Dr. Larry G. Marshall and Dr. Clark Blake have written about this exceptional landscape in "Land of Black Volcanoes and White Sands: The Pinacate and Gran Desierto de Altar Biosphere Reserve." They will share their research regarding the area's natural history, geology, and human history.
Dr. Marshall, senior author of the book, has held post-doctoral positions at Princeton University and the Field Museum of Natural History. A biologist, he has conducted research in Argentina, Bolivia, Brazil, Chile, Colombia, Peru, and Venezuela. Marshall is the author of more than 200 scientific or popular articles on natural history and continues to write on natural and cultural history.
Dr. Blake is the retired United States Geological Service director of the Menlo Park branch and a world authority on volcanos and birds.
Occasional presentations by authors of books on the Sonoran Desert, its adjacent biomes, and the natural and cultural history of the Southwest are scheduled by the Desert Museum Library as the Readers' and Writers' series. For more information please contact Peggy Larson, Librarian/Archivist by email or at 883-1380, ext. 284.
The Priscilla Baldwin Library is open to Museum staff, volunteers, and members Monday through Friday, 8 a.m. to 4 p.m., or by appointment.