Art Institute Exhibits Baldwin Education Building - Skip Links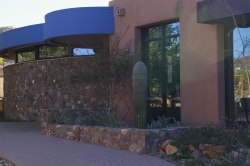 Follow posted signs to the
Baldwin Education Building
Exhibitions and Special Events
In the Baldwin Education Building
The Baldwin Education Building is generally open Monday through Friday from 9:00 am to 4:00 pm and by appointment. Weekend and holiday hours vary. Please call 520-883-3024 to check gallery hours for the day you plan to visit.
See also our Ironwood Gallery Exhibits
Art Institute Annual
Art Opening and Nature Art Certificate Graduation:
Saturday, March 10, 2018, 2:00 - 4:00 p.m.
Exhibition Dates: March 10 - April 5, 2018
See what the Art Institute participants of the past year have been up to in their classes and workshops! Each year the Art Institute celebrates and showcases artworks by our wonderful participants. Current students of the Art Institute are invited to submit one work of art to this collective show.
Sign up for a class or workshop
Fiesta Sonora West: Southern Arizona Watercolor Guild
Art Opening: Saturday, April 14, 2018, 2:00 - 4:00 p.m.
Exhibition Dates: April 14 - June 30, 2018

Celebrate our natural environment with the Southern Arizona Watercolor Guild's exhibit Fiesta Sonora West. This juried exhibition features work, from SAWG members, that is inspired by the natural environment of the Southwest.