Aquatic Interpreter Intern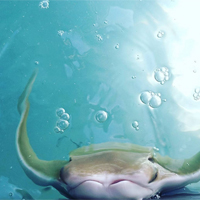 Internship Description:

Interns in this position complete an Aquatic Interpreter training that has an emphasis on establishing interpretive and leadership skills. Interns perform tasks related to the interpretation of the Museum's Stingray Touch exhibit and - while helping to ensure positive guest experiences - they provide guidance and support for their Aquatic Interpreter team members.

This is an unpaid position and there is no housing provided. For school credit, check with your adviser regarding the requirements of your college.

Internship Schedule:

Interns should have flexible schedules to accommodate a 16-24 hour week. Aquatic Interpreter Interns make about a 28 week commitment, during the following terms:

Fall (October - April)
Spring (April - October)

Shifts are generally from 8:30am-1:00pm and from 12:30pm-4:30pm.

Internship Duties (including but not limited to):

Facilitating team member check-in
Assisting with tasks, related to Aquatic Interpreter responsibilities (please visit the volunteer page to view more information about this position)
Organizing volunteer stations and rotations at exhibit
Observing Aquatic Interpreters at each station and writing interpretive reports
Providing guidance with proper interpretive techniques
Modeling good interpretive skills
Relieving team members for breaks
Reviewing newsletter content with team members

Requirements:

Applicants must currently be enrolled in a college or university (or have graduated in the last year) and have at least one year of study in a related field. Applicants should have a friendly, outgoing personality and an eagerness to demonstrate positive leadership skills to assist with coaching fellow Aquatic Interpreters. Applicants must be willing to endure (shaded) outdoor conditions throughout the year. Standing for long periods of time is an aspect of this position.

Benefits:

This is a unique internship opportunity that provides the tools towards developing leadership skills while gaining hands-on experience with marine animals at an AZA accredited facility. Aquatic Interpreter Interns get the chance to expand upon their interpretive speaking skills, while gaining interpretive knowledge of species related to the Sea of Cortez.