Program Animal Internship (IAC)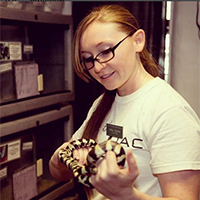 Internship Description:

The Interpretive Animal Collection is dedicated to the husbandry and training of a diverse collection of birds, mammals, reptiles and invertebrates. The Program Animal Intern assists IAC Keepers with projects related to the daily care of the collection's animals. Interviews for applicants will take place in July, 2018.

Internship Schedule:

This is an in-depth program, requiring a 16-24 hour per week commitment. Interns must be flexible with their schedules and have the ability to work weekdays, weekends and holidays. This is an unpaid position and there is no housing provided. The internship sessions typically last 15 weeks and correspond with the following terms:

Fall (Mid-August - December)

Internship Duties (including but not limited to):

30% cleaning of animal enclosures and exhibits
20% working on an animal enrichment project
15% daily animal observations
15% implementing animal enrichment
10% diet preparation
10% misc. (observing vet care/trainings)

Requirements:

Applicants must currently be enrolled in a college or university (or have graduated in the last year) and have at least one year of study in the following fields: Zoology, Biology, Veterinary Science, Wildlife Management, Museum Studies or Psychology. This internship is for individuals seeking a career in the zoo field.

Applicants must be able to: walk, stand for long periods, lift up to 50lbs, use small hand tools and be willing to withstand outdoor temperatures.

Applicants should be comfortable using Microsoft Office and presenting their internship project at the end of the session.

Preference will be shown to applicants who: are pursuing a career as a zookeeper or zoo educator, have prior knowledge of animal behavior and have experience with public speaking.

Benefits:

This is a great opportunity to gain hands-on experience working with wildlife in captivity. Program Animal Interns get the chance to broaden their professional goals within an AZA, non-profit, museum setting.